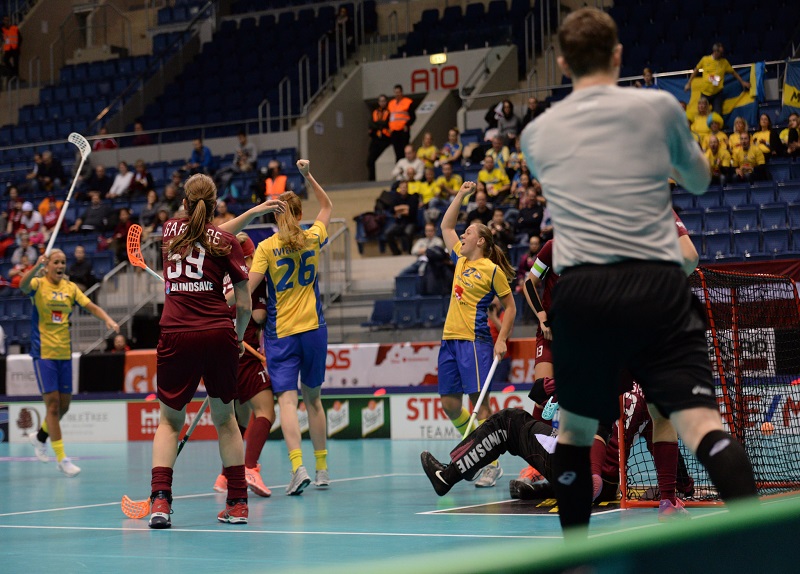 Quarterfinal match between Sweden and Latvia.

Sweden started with three goals. Stephanie Boberg, Sofia Joelsson and Alice Granstedt scored the first goals in a row during four minutes. Emelie Wibron, Swedish forward, added another goal in the 12th minute. It was only about players from Sweden and their game. This team dominated on the pitch and controlled the match. Moa Tschop was the next successful goal-scorer. She presented a one-timer shot. Sweden led 7:0 because Stephanie Boberg and Moa Tschop scored the next two goals.

Sweden added another goal in the 26th minute. Amanda Delgado Johansson was a successful goal-scorer. Swedish players had a lot of accurate shots and breathtaking combinations but there were less clear chances. Sweden scored another six goals in the second period.

After 43 minutes, Swedish players led 16:0. This goal-machine didn´t stop. Emelie Wibron orchestrated the seventeenth goal of this game. Latvian players were frustrated, their opponent controlled the match from the beginning until the end. The final result was 21:0.

Best players:
#5 Anna Wijk (SWE)
#77 Diana Isjomina (LAT)