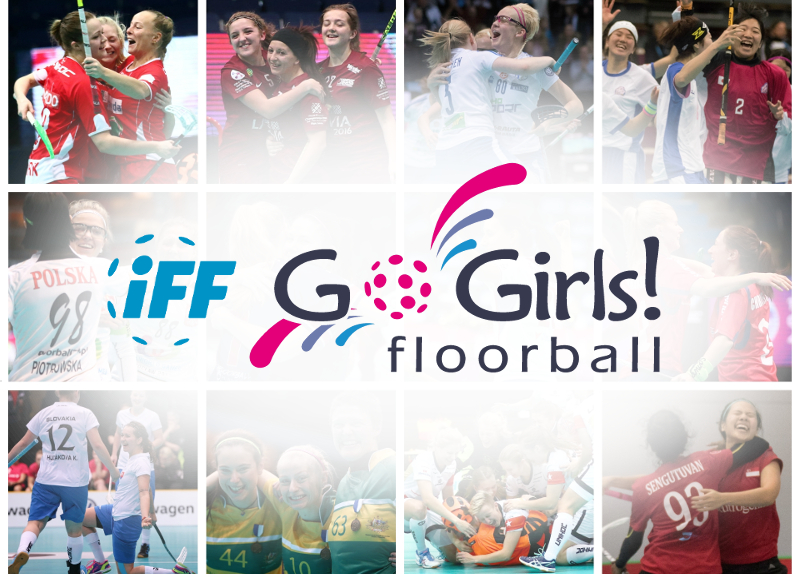 The IFF GoGirls! Floorball campaign was first launched in December 2013 and it aims to provide information for members, clubs and other social groups on how they can get girls and women involved in Floorball and, very importantly, how to keep them involved. Now the campaign is back and this time we are asking the WFC 2017 players about their views when it comes to women in sports and their playing career in general.

Each team in the Women's WFC in Bratislava were asked to nominate a GoGirls! ambassador for their team. The IFF will post an interview with each player on the official competition webpage www.iffwfc.org. The ambassadors are:
| | | | |
| --- | --- | --- | --- |
| | | | |
| Hannah Quaife (AUS) | Martina Čapková (CZE) | Anne Sofie Thaarup (DEN) | Merli Kaljuve (EST) |
| | | | |
| Mia Karjalainen (FIN) | Lisa Merle Entelmann (GER) | Yui Takahashi (JPN) | Gunita Karklina (LAT) |
| | | | |
| Karen Farnes (NOR) | Małgorzata Pazio (POL) | Amanda Yeap Ting Hui (SGP) | Andrea Gämperli (SUI) |
| | | | |
| Katarína Klapitová (SVK) | Cornelia Fjellstedt (SWE) | Nelly Johansson (THA) | Marie Häggström (USA) |

The IFF Event Manager, Sarah Mitchell, who is also in charge of the equality initiative emphasizes the importance that the member associations have:
- Achieving gender equality in Floorball is a very important part of helping our sport to grow and also to ensure our continued inclusion in large multi-sport events like The World Games. We need to have women represented at an equal level in all areas of Floorball, not just in the number of players. Women are currently vastly under-represented in the executive positions in our member association boards and staff and this is something we need to address. We also need to encourage greater involvement of women as coaches and referees.

Even though there is still work to do, floorball is on the correct path:
- Over the past years, the IFF has tried to reduce the gender inequality in our committees and has worked with our members to encourage their efforts to increase female participation. Many of our members have already taken good steps towards increasing the number of women involved in Floorball and it will be interesting to hear about the player´s own experiences, and views on the situation in each of their countries.