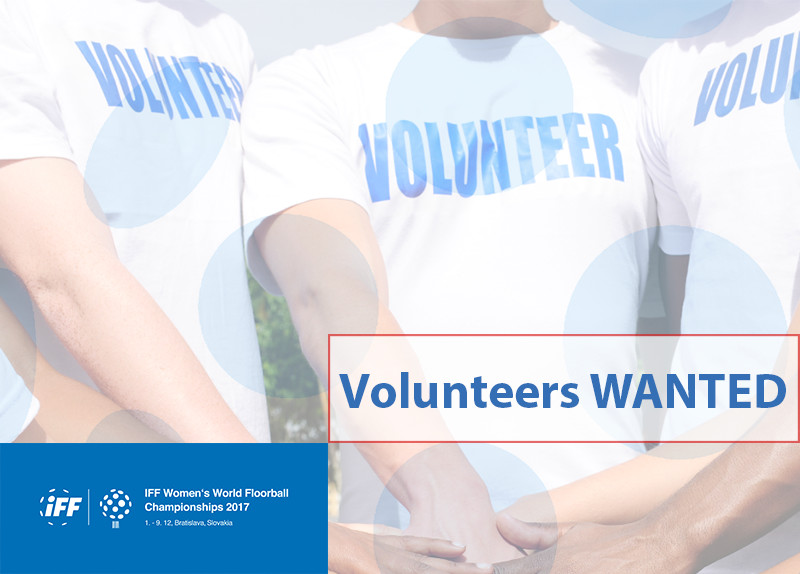 Do you like floorball? Do you want to be part of something special? Do you want to help rewrite history of floorball in Slovakia? If you answer yes to any of these questions, we will be thrilled to have you as volunteer for the upcoming Women´s World Florball Championship, in Bratislava this December. (1.-9.2017)
To apply for a volunteer position, please fill in this online form:
Here are basic information about free volunteering positions:
If you need further information email us at: maria.blazekova@wfc2017.sk

Accreditation
Issuing a personal accreditation card to each athlete, participant or media rep in order to provide entry or working rights at corresponding zones within the stadiums
Anti-Doping Control
Anti-doping chaperones will notify and escort the selected players to the doping control station (Condition: female over 18)
Volunteer Assistance
Assistance at all volunteer locations; supervision and help in order for everything to run smoothly. High level of responsibility required.
Assistance at Matches and Practices
Aiding with equipment at the venues, assistance during matches, fetching balls.
Security at the Stadium
Access control at various points in and around the stadiums, such as: Fan entry points, rink, dressing rooms, media and mix zone areas, VIP, sectors, etc. Assistance with security.
Infodesk
Providing guests with the information requested. In addition, directing spectators to their seats at the stadium, managing flows of visitors and assisting them with any other issues if necessary. Possibly selling fan merchandise.
Media
Helping journalists and photographers at stadium media centers, in press conference rooms, and in mixed zones. Providing the necessary information and assistance in the media center.
VIP Services
Providing support and assistance to VIP guests, checking tickets at entry points to the VIP sector, providing catering needs in the VIP areas.
Drivers
Assisting the LOC in pick-ups and driving equipment, officials and other members of the LOC during the championships.
Technical Staff / Timekeeper
Tracking and keeping the time during matches. Close cooperation with the rest of the technical staff
DJ
Plays music in between breaks.
Announcer
Announces the player´s names, goals, anything else during matches (In both languages = Slovak + English).
On-line Registry
Statistics

Registry
Thank you!