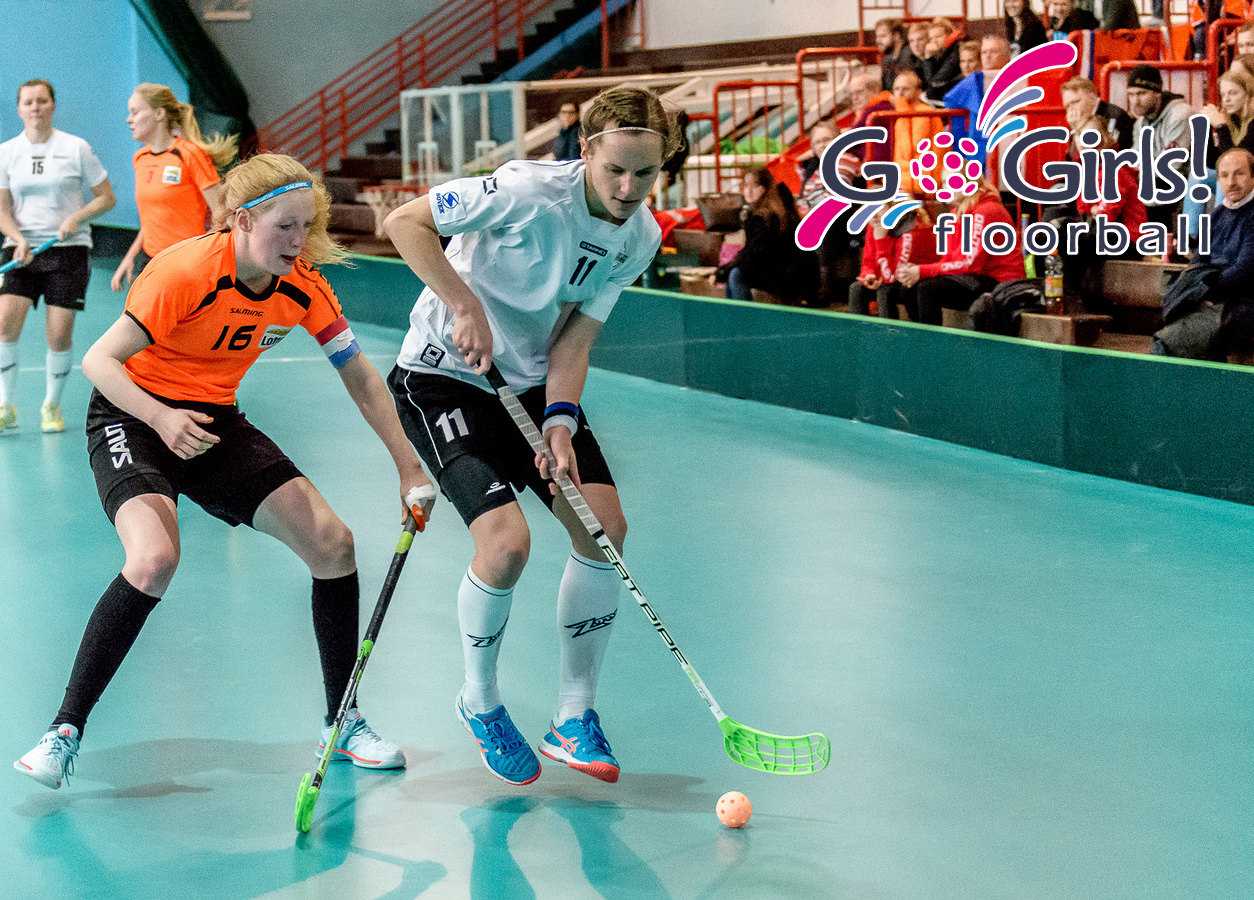 32-year-old Merli Süvari has played floorball for 15 years. At the moment she plays for Sparta Spordiselts in Tallinn and will most likely be seen with the Estonian national team in Bratislava.
When she's not playing floorball, she works as a class & PE teacher at Tallinn Finnish School:
Terveisiä koululle!
How does Men's Floorball and Women's floorball differ in your country?
I suppose the biggest difference is in numbers. Men have several youth leagues (U11-U19), men's league and two lower divisions. Women only have a women's league (4 teams) and the 1st division (5 teams). We used to have a girls' league (U19), but it's gone – not enough teams…
How do you practice floorball?
Currently I have two 1,5-hour sessions per week with my club team + game(s) in the weekends. On top of that, our national team is taking part in the Latvian women's league so I'm also playing in Latvia every other weekend.
In addition to floorball sessions I try to fit in as much physical training as I can. I do some orienteering, running, I cycle to work and my job keeps me active as well.
How did you become a national team player?
I became a national team player when our national team was first formed 10+ years ago. I've been on the national team ever since, except when I've been injured… or pregnant.
What has been the most peculiar situation that has happened to you during a floorball match?
I was accidentally hit in the head by an opponent's stick while she was celebrating a goal she had just scored against us. She ended up getting a 2-minute penalty for high stick. It was a little consolation, although I don't remember if we managed to score a goal during the following power play.
How will you prepare for the WFC
Our national team has been preparing for the WFC since May. We've had training camps (June, July, August), international friendly tournaments with Swedish teams (May, August), and we're playing in the Latvian women's league (September-January). Our coaches have put a lot of time and effort into getting us prepared for the World Championships.
Personally, there's definitely a lot of space for growth and improvement, but I try to be realistic – focus on the things that I can perfect in the time that's left. The main thing is to work hard and fight tooth and nail for your team.
The IFF also contacted the national association and asked a few questions about female participation in floorball. There´s a women´s league in Estonia and women are welcome in all coaching and refereeing programmes that the Estonian Floorball Union offers.
- There is ladies league running in Estonia and the best motivator for actively playing girls/women is the national team. National team camps are held regularly and in the beginning of the new cycle pretty much everyone has a chance to participate. The girls under 15 can at the moment participate in teams with boys. There's definitely a need for girls only teams/leagues. There's also two regional tournament for mixed teams. In season 2017-2018 there's also plan to initiate with the third region, says Meelike Terasmaa from Estonian Floorball Union.

- At the moment we don't have any specific programmes for women/girls. In the spring 2017 we started negotiations and presented the idea to Ladies´ Circle Estonia (a social networking organisation for women) for cooperating in developing floorball among girls in Estonia. The project wasn't unfortunately chosen to be the main project for the next two years period, but was asked to propose again in two years. The idea of the project is to organise more coaches seminars, create new teams for girls only, support new teams and coaches with versatile help (trainings, coaches seminars, equipment, rent of sports halls).