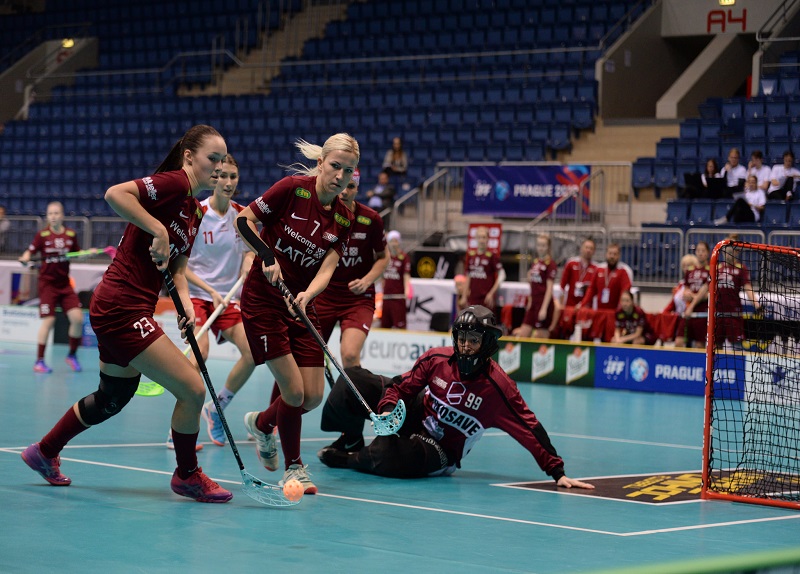 Latvia challenged Denmark. The winner of this match will play against Sweden.
Both teams started with enthusiasm but there were a few shots. Latvia and also Denmark focused on defensive play. Both countries were unable to score the first goal until the 14th minute. Liga Garklava was a successful goal-scorer because she utilized the half-empty net. The ball bounced dangerously in front of Latvian´s goal but Danish players didn´t use their first power-play. Latvia had one-goal lead before the second period.
The second part of the game continued in better rhythm and both countries tried to score a goal in this dramatic duel. Latvian centre Evelina Garbare scored the second goal of the match. Latvia dominated on the pitch but they didn´t use a power-play due to their static play and effective blocking of the shots by the Danish defence. Latvian effort was successful in the 38th minute. Gunita Karklina added the third goal of Latvia. Before the end of the second period, Denmark showed good team work but there was no goal.
There were several interesting moments and situations in the last period. Zeltite Bankava scored the fourth goal of Latvia and they led 4:0. Fortunately for Denmark, centre Cecilia Di Nardo was a successful goal-scorer in the 50th minute. Latvia won this game 4:1.
Best players:
#13 Gunita Karklina (LAT)
#33 Nanna Sorensen (DEN)