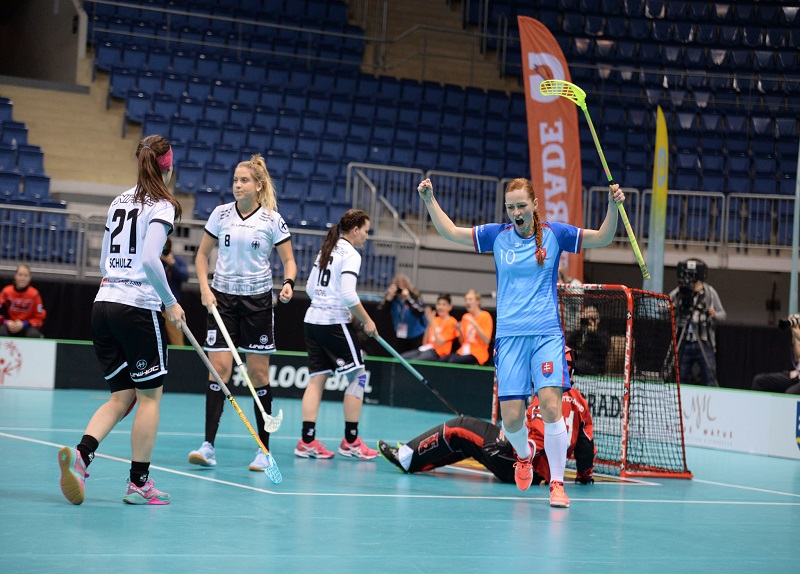 Important match for both teams. Who will play against Finland? Slovakia or Germany?
The first goal of the match was scored by Denisa Ferencikova in the 3rd minute. Slovakia presented their traditional style of floorball. As the game showed, it was the right tactics because Lucia Kosturiakova added another goal in the 8th minute. But Germany responded in the 9th minute. Riccarda Schimanski was a successful goal-scorer. Both teams presented an entertaining style of floorball. Slovakia led 2:1.
Germany scored the second goal in the 26th minute while Alzbeta Durikova was lying on the pitch. Laura Neumann was the goal-scorer who changed the score to 2:2. Spectators in Bratislava applaused when the captain of national team Slovakia Lucia Kosturiakova scored a lucky goal to 3:2 thanks to power-play. Michaela Sponiarova scored the next goal because of quick and accurate combination. Slovakia had two-goal lead in the 36th minute. The host-country had several shots that were blocked by the German defence. German players played responsibly in defensive area and they focused on break aways and good pressing. Katarina Klapitova confirmed the dominance of Slovakia when she added another goal in the last minute of the second period.
At the beginning of the last period, Lucia Kosturiakova completed their hattrick. Slovakia had four-goal lead and the host-country had a lot more ball possesion than Germany. The German team seemed to lack of energy in their attacking plan, players from this team also in the third period focused mostly on defending. Centre of Germany Laura Neumann scored her second goal in the 58th minute and she edited the score to 3:6. German players tried to play without a goalie. This receipt wasn´t successful, Lenka Cuprakova scored the seventh. Slovakia won over Germany 7:3.

Best players:
#5 Pauline Baumgarten (GER)
#10 Denisa Ferencikova (SVK)