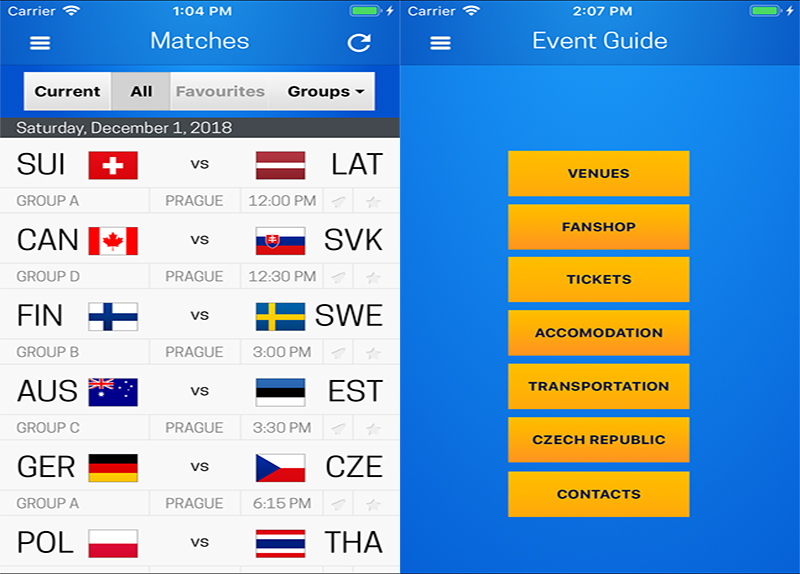 The IFF Events Mobile App for World Floorball Championships 2018 is now launched for iOS and Android. Visit the app Event Guide to find all you need to know about the spectacular WFC 2018!
The WFC 2018 version of the app includes a user friendly Event Guide with the following features:
> Venues (information about the WFC venues & shown on map
> Fanshop (direct access to all the WFC fan products)
> Tickets (direct access to tickets)
> Accommodation (link to recommended Prague hotels for individuals, families and groups)
> Transportation (information of how to get to the WFC by plane, train or bus & how to get around Prague)
> Basic information about the host country Czech Republic
> Contacts (official WFC channels and contact information)
Download the iOS version in the App Store & Android version on Google Play or update your current version of the App (search: "IFF Events").
Get all the WFC results, stats, news and YouTube live matches directly to your iOS or Android device! Guess the WFC results, collect points and win UNIHOC prizes! Start by selecting your favourite teams and get social by sharing the game actions or your result tips on Facebook or Twitter.
IFF Events WFC Mobile App includes the following:
> Latest scores
> Event guide with useful information about arenas, tickets, contacts
> IFF news, tweets (possibility to retweet), Instagram photos
> Links to YouTube matches
> Up-to-date results, fixtures & standings
> Listing favourite teams and matches
> Guess the final score of the match, collect points and win prizes
> Compare your game prediction skills with others
> Get social and share your tips, teams and results on social media.
UNIHOC guess the WFC results competition - launched soon!
The best WFC 2018 results guesser will win a UNIHOC prize. This feature will be launched in November (when the final rosters are published). You can then start guessing by clicking on the matches and choose guess.
You collect points in the UNIHOC Guess the result game in the following way:
- 3 points for correct winner and result
- 2 points for correct winner and goal difference
- 1 point for correct winner
- Top 3 UNIHOC guessers with same amount of points will be ranked by most 3p guesses (correct final score) & 2p guesses (correct winner & goal difference).