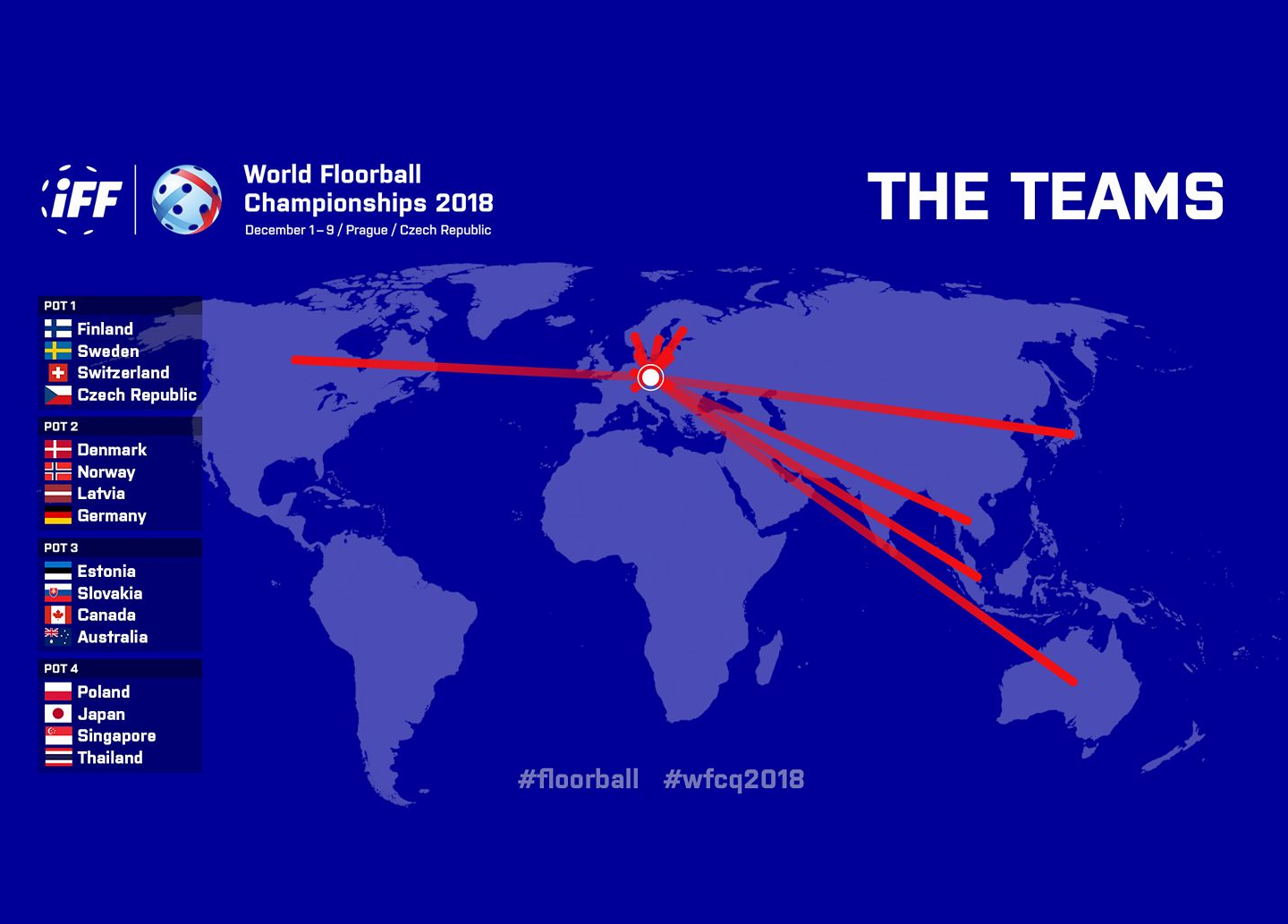 The last Qualification tournament for the IFF Men´s World Floorball Championships 2018 was held last weekend and now all the 16 teams are set. The ballot to decide the groups for the WFC 2018 will be held in Prague, Czech Republic on 1st March 2018.
The draw will be held at the Old Town Hall - Brožík Assembly Hall at 18:00, and will be streamed live on IFF YouTube Channel 1 as well as on the World Floorball Championships Facebook page.
The IFF president Tomas Eriksson and many other representatives of sport and politics society including the representatives of Czech, Swiss, Finnish and Swedish floorball will participate in the ballot.
The organisers are happy to announce that Tero Tiitu, player who scored the most important goal of the WFC 2008 in Prague, as Finland won the final against Sweden, will be part of the ballot and will draw one of the pots.

The qualified teams are divided into 4 pots according to ranking:


Pot 1
Ranking group 1-4

Pot 2

Ranking group 5-8

Pot 3

Ranking group 9-12

Pot 4

Ranking group 13-16

Finland (1)*

Sweden (2)

Switzerland (3)

Czech Republic (4)

Denmark (5)

Norway (6)

Latvia (7)

Germany (8)

Estonia (9)

Slovakia (10)

Canada (12)

Australia (13)

Poland (14)

Japan (16)

Singapore (17)

Thailand (22)
*Numbers in brackets show current rankings according to results from the past two WFC events
The groups will be determined by an ordered selection from the pots, and will be made up as follows:

Group A

Group B

Group C

Group D

Team ranked 1-4

Team ranked 1-4

Team ranked 5-8

Team ranked 5-8

Team ranked 1-4

Team ranked 1-4

Team ranked 5-8

Team ranked 5-8

Team ranked 9-12

Team ranked 9-12

Team ranked 13-16

Team ranked 13-16

Team ranked 9-12

Team ranked 9-12

Team ranked 13-16

Team ranked 13-16

Group Ballot Live stream


Playing System
The 16 teams will be divided to 4 groups. In the group stage each team plays each other once, while the second stage of the event includes play-offs and placement matches. The two best teams of group A and B go directly to the quarter-final. Teams placed 3rd and 4th in group A and B and the teams placed 1st and 2nd in group C and D make it to the first playoff round (played before the quarter-finals).
Final Round (1st - 9th December 2018)
This will be the third time that Czech Republic has hosted a Men´s World Championship final round event. All matches will be held in Prague at O2 Arena and Arena Sparta. With a spectator capacity of 17,000 at O2 Arena, the hosts will be looking to break the spectator record of 15,106 which was set at the very first Men´s WFC final at Globe Arena, Stockholm in 1996.
Qualifications
A total of 34 teams registered for the Men´s WFC 2018, including China who made their official international debut at an IFF event. Read more about the qualifications here.